Emotional Intelligence at Work – Webinar
Work more easily with others.
*Due to COVID-19, this previously scheduled in-person training is now being offered in webinar format to support individuals and teams to understand their emotions and the emotions of others during this challenging time.
Boost your emotional intelligence by understanding the 8 emotional behaviours that help, or hinder your success at work. This course will equip you with strategies that will help you recognize and respond to behaviours effectively.
Course Specifics
Lower work-related stress and reduce conflict with a deeper understanding of your emotional intelligence. Begin with an assessment that provides you with a detailed report related to 8 emotional behaviours that affect your success at work. This course will assist you to recognize and develop your understanding of why individuals behave the way they do.   
Understand emotional behaviours at work
Recognize differences and comfort zones
Identify how to read and respond to others' emotions and behaviours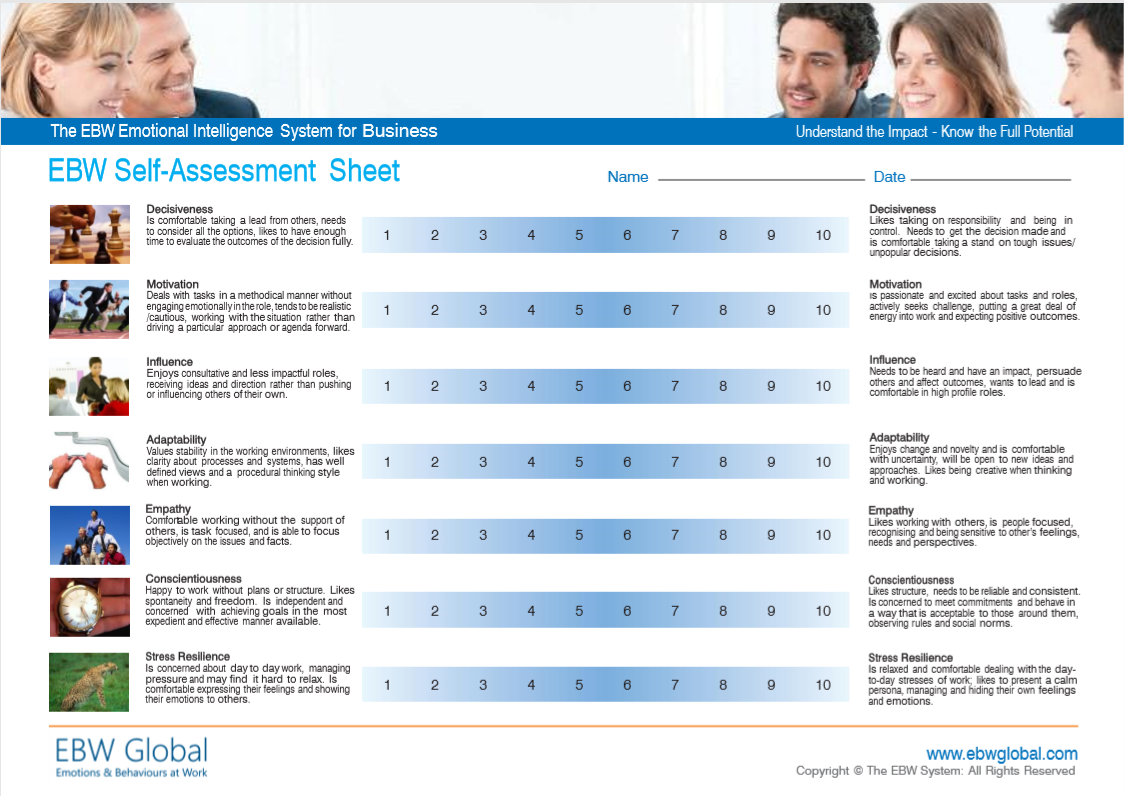 Additional Services:
Learners can take their learning a step further and expand their abilities with individualized coaching sessions or pursue additional emotional intelligence leadership awareness courses here.
| | | | |
| --- | --- | --- | --- |
| | Emotional Intelligence (EQ) at Work • Webinar | $150.00 | |
More information on Emotions and Behaviour at Work (EBW)
Business EQ-EBW For Leadership Development
Based on over 15 years of worldwide use and research, this tool helps leaders and teams to understand why they behave the way they do and helps to set a highly effective coaching framework that improves occupational and leadership performance. Using a range of EBW assessments and reports, leaders and teams can instantly see which emotions and behaviours inhibitors and activators to effective leadership and team performance are.
Training Results
Empower leaders and teams to transform themselves and your organization
Help leaders to identify clear goals and objectives
Develop leadership styles appropriate to the individual, task, and situation
Increase self-awareness and sensitivity to understand the emotional needs of others and, using that knowledge, to drive success
Book a complimentary organizational needs analysis to discuss in-person opportunities at your location.
What people are saying about Agilec
"Thanks for all your excellent work on this yesterday. It certainly highlighted to the staff how they indeed come from very different places and it's important they realize this in how they interact."
You might also be interested in…
This 12-hour course trains you to recognize the signs and symptoms of mental health disorders and how to handle situations that can occur in your workplace.
This holistic and story-based workshop will bring a deeper understanding of Indigenous world view and engage participants in mind, body, spirit, and emotion.
In the rush to reach outcomes and satisfy competing priorities, there's often little time to consider what's happening around us. In this webinar, discuss how we make ethical decisions.
Subscribe
Sign up to receive our emails containing the latest news and information.
By submitting this form, you give consent for Agilec to contact you through the email provided. Your email is safe with us. We will never sell or share your personal information to third parties. You may unsubscribe from our emails at any time.